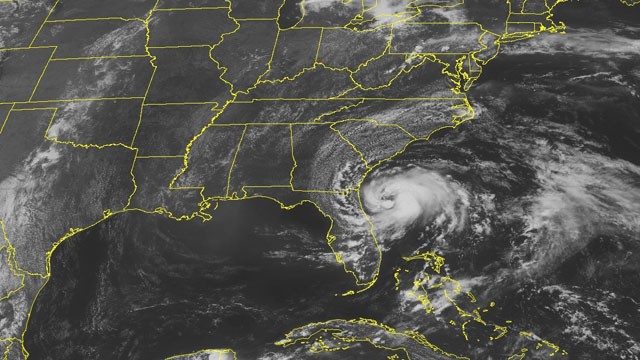 The 2012 "Atlantic Hurricane Season" has begun. The annual season officially begins on June 1st and ends November 30th. Of course, nature doesn't necessarily check with the US' National Hurricane Center.
This year, in May, the Atlantic basin was already hit by two "Tropical Storms." While neither quite reached hurricane status, the second, Tropical Storm Beryl, did pack winds of 70 mph (110 kmh), just below the 74 mph minimum need to be called a hurricane.
Hurricanes can certainly cause havoc for travelers. At one point last year, Hurricane Irene caused 10,000 flights to be canceled over a single weekend.

The best way to avoid hurricane travel woes is to travel outside the "hurricane belt" "in season."
If you're dying to visit a Caribbean island, with your travel limited to June through November, you might try Aruba, Curacao, or Bonaire, all outside the "hurricane belt." Cruise ships plying the Caribbean during the "Atlantic Hurricane Season" can normally steer clear of the big storms, though problems can affect their ports and sometimes cause very rough seas at the storms' edges. There are also hurricanes located in the Pacific.
In the wake of Hurricane Irene, 145 passengers of Royal Caribbean's Serenade of the Seas never got the message the ship was leaving 3 hours early to avoid the storm. They were left in San Juan.
Any of the Americans left in San Juan without their passport were completely out of luck trying to meet the Serenade of the Seas at its first port of call, Aruba. All US citizens must have a valid US passport for all international air travel.
For US citizens, my rule of thumb for all international travel, except visits to border locations in Canada and Mexico by land, is never travel without your passport. On some cruises in the Western Hemisphere, US Passport Cards are sufficient, but they're useless in an emergency if you have to fly back to the US.
If you do travel in the "hurricane belt" "in season," purchase travel insurance and make sure you're fully covered in the event of a hurricane. Be sure you fully understand what the policy covers and, just as important, what it doesn't cover.
Remember that even the best travel insurance may not cover everything. For example, if you're on a cruise and the ship changes its itinerary to avoid a hurricane and drops your favorite port, no policy I know covers that loss. Buy your insurance early. Once a hurricane is named, you can't buy insurance to cover losses from it.
At The Knot, a website specializing in wedding information, JoAnn Gregoli says this about planning a destination wedding in the "hurricane belt" "in season": "Wedding plans may be safer towards the tail end of the season, but in general, don't risk it." She's right. Either change the date or the location. Even if the wedding is insured, it won't make up for its cancellation, or friends and family missing the event.
If you're traveling during hurricane season, look for a hotel or vacation rental offering a hurricane guarantee. These policies have become generally common for resorts dealing with low sales, "in season," but don't forget to read the guarantee's fine print. You need to know precisely what's covered. Also, the best kind of reimbursement is cash, not a voucher for a future stay.
To get hurricane information on the Internet, use the NOAA National Hurricane Center. On my iPhone I use Hurricane ($1.99) to track them and receive notifications about them prior to and during travel. The best similar app I've found for Android phones is Hurricane Hound ($1.99).
To track itinerary changes and cancellations, sign up for notifications from your cruise line or airline. In addition, I use TripIt Pro ($49 annually), which among other features notifies me with instant alerts about flight delays, cancellations, and gate changes sent right to my smartphone. TripIt has mobile applications for iPhone, Android and Windows 7.
If you're on a driving vacation into hurricane territory you might have room for the American Red Cross Axis, a self-powered AM/FM/NOAA weather radio with flashlight and cell phone charger. It even has a hand-powered crank to generate power to run the unit in case of power failure.
Your cellphone might be your only way to communicate in case of a hurricane. I take a Mophie Juice Pack Powerstation as a power backup. It can recharge my smartphone more than once on a single charge. It can charge iPhones, and smartphones with a USB port.
US citizens traveling abroad should register with the Smart Traveler Enrollment Program (STEP), a free service of the US State Department to better assist its citizens in an emergency. Before you leave the US, you provide your travel details to permit the State Department to contact you in times of emergency, and help you evacuate in case of severe problems. I use this service and subscribe to State Department Travel Warnings, Alerts and other information for each country I'm visiting.
In times of trouble, including hurricane disruptions, your best travel resource just might be your travel agent. It's amazing what a good travel agent can do in troubled times when you need to change your plans. All my international travel is booked through my "brick and mortar" travel agent.