Thank you for reading Consumer Traveler's weekly newsletter. You can subscribe to our daily email newsletter here.
What you need to know this week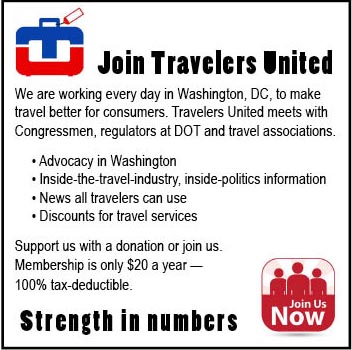 Won't you join us as we work with the powers that be in Washington to set consumer-oriented policies? Together with you, we can work towards eliminating resort fees, disclosing ancillary fees, and shortening the lines at at customs and at borders.
You are already enjoying some of the benefits of our work, including:
• The 24-hour rule which allows passengers to cancel or change problem airline tickets.
• The full-airfare rule, which requires the advertised price to be the price for which airline tickets can be purchased.
• Increased compensation, up to $1,300 when passengers are faced with denied boarding or bumping.
• Higher liability rules for lost and damaged luggage, up to $3,400 on domestic flights, plus a refund of baggage fees.
Check us out at  Travelersunited.org. We're working through the system to make travel better. For you. With you.
We want to hear from you!  Do you have a question or comment for us? Do you have a story to tell? Please contact us HERE.
Loading ...
The latest from Consumer Traveler
Stop dressing police and TSA like storm troopers
The closest that most Americans come to feeling the oppression of police is at TSA airport checkpoints. No one enjoys the experience.
E-cigarettes under scrutiny, hailing taxis by phone, Delta Sky Clubs dining
E-cigarettes under scrutiny, hailing taxis with your phone, Delta Sky Clubs add more dining options
A day in the life of the Department of Homeland Security
All 22 DHS components have unique missions. Exactly how much is illustrated in DHS' daily to-do list. When citizens look at the scope of this giant agency, it is hard not to be impressed.
Alaska Air toilet squabble, censored in-flight movies don't panic with in-flight engine loss
Couple sues Alaska Air for wrongful detainment, in-flight movie industry, don't panic when airline loses an engine.
Cruise lines take a hard line on refunds
Tragedy struck just as Ira Birnbaum and his wife prepared to set sail to Alaska on Norwegian Cruise Line. His mother died. The cruise line didn't care. At all.
Revel Atlantic City to close, San Diego Fleet Week, AMEX Centurion lounge opens at LGA
Revel Resort Atlantic City to close, Fleet Week honors San Diego military, AMEX Centurion lounge opens at New York La Guardia
Let's talk
We're listening. The stories you see in this newsletter are just a starting point. We hope you'll take a minute to leave a comment, whether you agree or disagree with something we've written. Let's continue the conversation on Twitter or Facebook. And, of course, we're always available by email. Here's our address.
Photo courtesy of Michael Dechev and Shutterstock.