Thank you for reading Consumer Traveler's weekly newsletter. You can subscribe to our daily email newsletter here.
What you need to know this week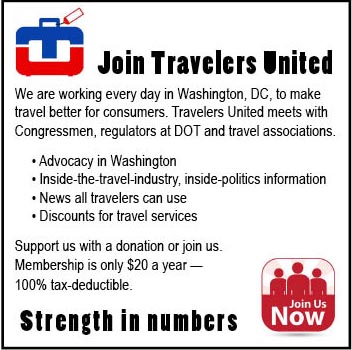 Full-fare advertising. Increased compensation when denied boarding. Increased compensation for lost luggage. 24-hour allowance for changing an airline reservation. Travelers United  has been instrumental in all these rulings…and many more! We want to continue to advocate on your behalf. But we need your support. Please consider joining the only nonprofit, membership organization in DC that represents ALL types of travelers (by air, by car, by rail, hotel guests, etc.). Together we can make travel better.
We want to hear from you!  Do you have a question or comment for us? Do you have a story to tell? Please contact us HERE.
Loading ...
The latest from Consumer Traveler
Knee Defender airline battle — who do you think is right?
Who has more right to the space? The woman who wanted to recline? Or, the businessman who wanted to have room to work?
Frontier flies from Cincinnati, UA's DIY baggage tags, new hazmat rules
Frontier adds flights from Cincinnati, United adds DIY baggage tags, new hazmat rule wording gets approval
Rep. DeFazio comments on and misquotes his misguided Transparent Airfares Act
The way the anti-consumer Transparent Airfares Act was passed by the House of Representatives is absolutely shameful.
Knee Defender banned in Australia; AA says, "No to Orbitz"; Ryanair to bid for Cyprus Airways
Australian airlines ban Knee Defender, American pulls flights from Orbitz, Ryanair to make bid for Cyprus Airways
When you're traveling, a picture can be worth a thousand dollars
Car rental companies are more vigilant than ever about collecting damages from customers, so are hotels
Australia to relax phone ban, intro airfare Boston to Hong Kong, future of Atlantic City
Australian carriers relax phone ban, awesome airfare to Hong Kong, the future of Atlantic City
We're listening. The stories you see in this newsletter are just a starting point. We hope you'll take a minute to leave a comment, whether you agree or disagree with something we've written. Let's continue the conversation on Twitter or Facebook. And, of course, we're always available by email. Here's our address. Photo courtesy of viviamo and Shutterstock.